Know About Different Styles Of Patio Umbrellas And Its Distinctive Features
This post was written by Hiren Modi Hiren Modi
We all love to chill out by the pool during the hot summer months. But if your patio doesn't have an overhead roof to shield you from the heat, to patio umbrella is a great idea! These are good quality and made with material which can withstand harsh heat or rains. You can have the one that suits your needs the best from the wide range available in the market.
Auto Tilt umbrella: It is round umbrella that tilts by turning a crank. The pole of the umbrella is constructed of lightweight, yet sturdy aluminum and has a scratch-resistant finish. The best thing about auto tilt is that as the sun moves, you don't have to get up and mess with a button to keep tilting it; you can do it right from your chair!
Round Sunbrella: This is a round umbrella. In this type of umbrellas, rectangular shapes also exist which looks very similar. Its canopy is made from Sunbrella acrylic which has the ability of mildew-resistant. Its poles are finished with aluminum or wood to give it sharpness with style. It is available in a wide range of different colors.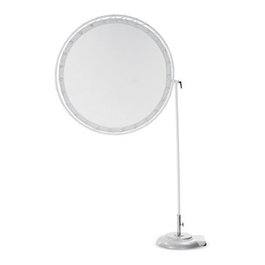 Mid-Century Sunshade: This one looks very simple yet stylish because of its versatile functionality. This Mid century sunshade umbrella is designed to provide wide shade for one or two closely seated people. The Mid-Century Sunshade can perfectly fit in poolside or anywhere in your yard. The rotating shade rotates from horizontal to vertical by simply loosening and re-tightening the handle located at the top of the pole.
LED Lighted Umbrella:  This gorgeous umbrella can give shade from the heat by day and illuminated light by night. It has an easy-to-crank handle, and an auto-tilt feature for customizable shade. A switch on the housing operates the lights.
Tropical Umbrella:  It is recommended for shading square and round dining tables up to 48 inches across. It is durable and available in different colors. It can be used with a large table in your patio or deck to entertain family and friends.
Rectangular Umbrella: This one can give a proper shade. This rectangular patio umbrella is more useful than the round shaped umbrella. It has a wide variety of colors and prints which gives it a stunning look. The wood used in manufacturing it is stained with acrylic and sealed with a semi gloss lacquer for moisture resistance.
Pulley-lift & Crank-lift: Pulley-lift umbrellas are very easy to use and operates as normal umbrella. It has a string and require you to pull it and insert the metal pin into a hole to hold the umbrella in the open position. A crank-lift umbrella has a crank on the pole and can be opened with a series of gears.
Know About Different Styles Of Patio Umbrellas And Its Distinctive Features
by
Hiren Modi
Warning
: mysql_fetch_assoc() expects parameter 1 to be resource, boolean given in
/home/vistasto/public_html/blog/wp-content/themes/iSense/similarproducts1.php
on line
59